Opinion | Top-10 "DIY Hearing Aids" and PSAPs
By Karl Strom, editor
I won't mince words: there's a lot of garbage online masquerading as quality hearing aids and personal sound amplification products (PSAPs). If you've been burned by what looks like a good do-it-yourself (DIY) or direct-to-consumer (DTC) hearing solution, you're not alone.
Technically speaking, there is no such thing yet as an "OTC/DIY hearing aid" designed to compensate for a hearing loss. But there are some quality online devices that provide good amplification and will probably be classified as Over-the-Counter (OTC) hearing aids when the FDA does establish regulations for this future class of products. Before getting into the nitty-gritty descriptions of the better ones, I need to confess some strong biases and note what I believe to be hard facts: 
1) My perspective is from the hearing industry. I've worked in the hearing industry for over 25 years, and I think you're MUCH better off seeing a good, reputable, dedicated audiologist or hearing aid specialist who uses best practices to fit hearing aids. If you have anything more than a mild hearing loss, you should get your hearing checked and obtain a recommendation from an audiologist or hearing aid specialist. In many cases, you can get a professional hearing exam for minimal expense or even free. (There are also some good online hearing tests and apps, the most popular being the National Hearing Test which costs $8 but is free to AARP members.) As long as the hearing care professional uses best practices, they can supply you with a better, more sophisticated device customized for your hearing loss. But you will probably pay more. While several caveats apply, keep in mind that big box stores (eg, Costco, Sam's Club, etc) also offer professionally fit hearing aids for around $1500 a pair, and many hearing care practices also offer hearing aids in this price range if you specifically ask for them.
2) What works for me may not necessarily work for you. I have a "borderline" mild hearing loss with quite a lot of tinnitus or ringing in the ears. This means that (unaided) I listen to the TV at higher volume levels than the rest of my family, and I have some problems hearing at noisy dinner parties, bars, and restaurants. My tinnitus is bothersome occasionally, but I mostly ignore it. If you have more severe hearing loss or tinnitus, the devices below may not perform well for you.
3) I think engineering and reputation matter. I've worked with folks who developed some of the products below and I've visited the headquarters of every global hearing aid manufacturer. Their resources are impressive to say the least. I also harbor the viewpoint that, in general, companies employing people with solid backgrounds in audiology, audio engineering, and/or hearing aid manufacturing have a distinct advantage in this market compared to those that do not.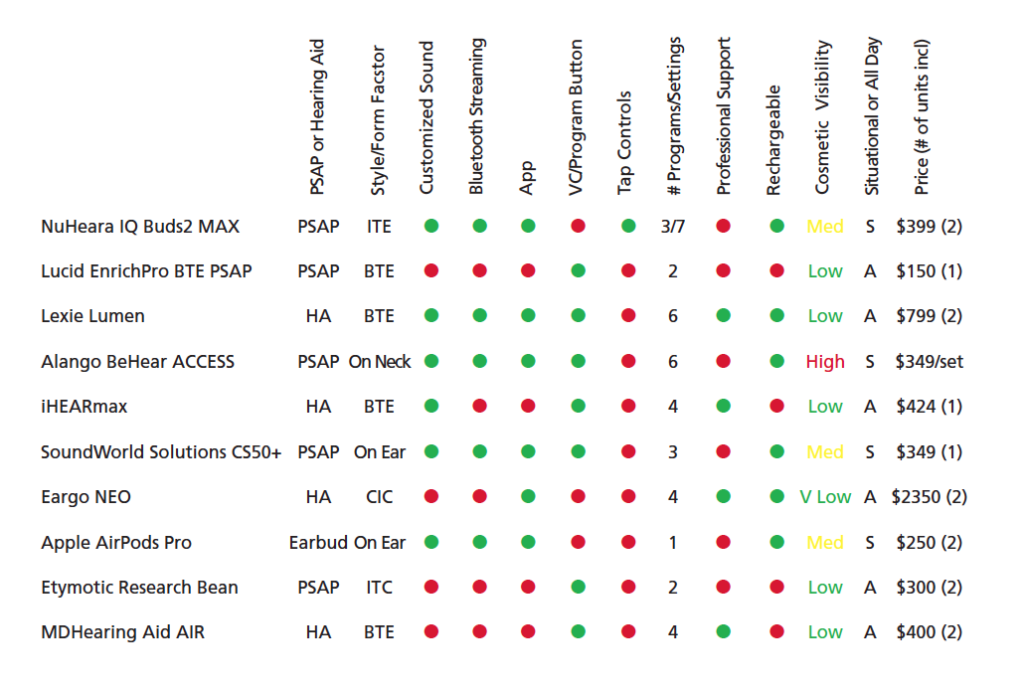 So, those are my disclaimers and caveats in this "Top-10" list. I've actually tried a number of the products below (usually free of charge), and these I've marked with an asterisk (*). Table 1 above summarizes some of the key product attributes of the devices. Be aware that models, pricing, features, etc, will doubtless change over time, so look into the specifics before purchasing them! You should be aware there are many amplification products on the market, and this is by no means a comprehensive list. Additionally, some of the products below are "situational devices" designed for part-time use, while others are meant to be worn "all day." Finally, the order of the products below is meant to span a wide range of wants and needs for consumers looking into PSAPs and online DIY listening devices; I'll work on building out this list later into some more specific categories (eg, by price, styles, specific-use cases, etc).
Top Online DIY Hearing Devices for Milder Hearing Losses
1) NuHeara IQ Buds2 MAX*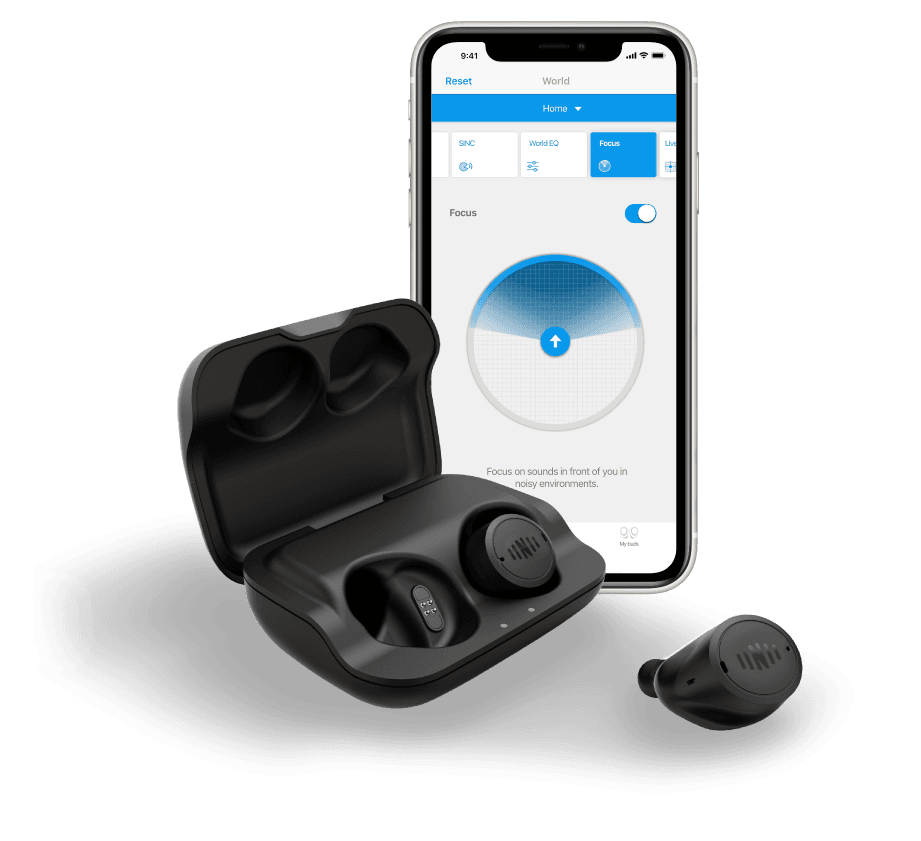 Price: $399 for two (sold as a binaural set).
Classification: In-the-ear PSAP/earbud with Bluetooth® streaming and recharging case.
Best features: A high-quality Bluetooth streamer for music and phone use, and customized for your own hearing profile with clean-sounding amplification. Company also offers a terrific TV steamer (sold separately).
Description: There are several distinguishing features about IQ Buds2 MAX, but most important may be its EarID personalization system that uses the National Acoustic Labs NAL-NL2 hearing aid fitting algorithm (a "gold standard" in audiology) in the self-fitting process to calibrate the sound to your own hearing profile via their app. The devices offer great long-range Bluetooth connectivity and music/cellphone streaming, an active noise reduction system, directional microphones to hone-in on speech in noise, tap-touch controls, voice prompts that tell you which program you're using, and a terrific hard-shell carrying case (about 3"x2") that recharges and protects the aids effectively. In the app, you can choose from 3 preset programs from a list of 7 (workout, street, home, office, restaurant, driving, and plane). The IQ Buds2 are designed for situational use, but NuHeara also offers a range of amplification products, which now includes a hearing aid, the IQbuds² PRO.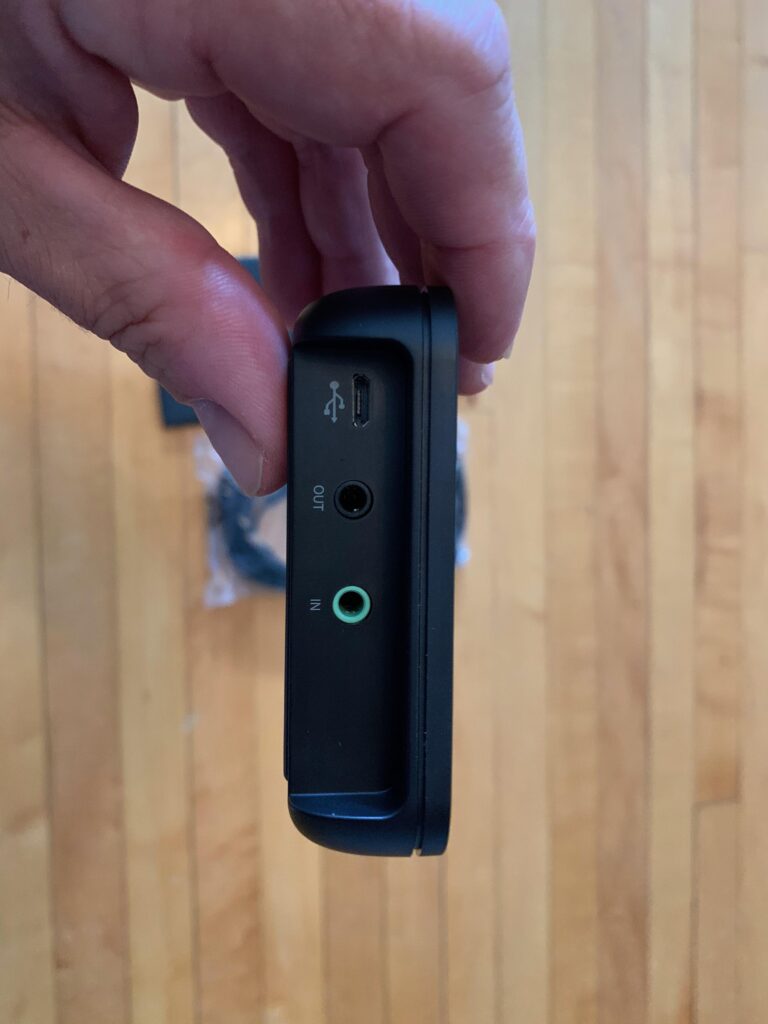 My opinion: NuHeara's IQ Buds2 are at the top my list of PSAPs because this is the PSAP product I've found most useful for my own mild hearing loss and situation. It has some of the best features of a modern hearing aid, and also features an excellent self-fitting program with an intuitive no-nonsense app, good amplification options/programs, battery life and a sturdy recharging/carrying case. As a Bluetooth streamer for music and TV, it has exceptional range, signal integrity, and the sound quality is very good. Negatives include the devices are relatively heavy and stick out of your ears (medium "nerd factor"†) and can fall out at times—but they're also robust and well made. For me, what really makes the IQ Buds2 shine is the app-controlled IQstream TV listening device, which can be purchased for an extra $100—and is well worth the money. In short, I use these frequently and think they're an excellent PSAP amplifier and streamer. The company has also recently introduced its IQbuds² PRO hearing aids.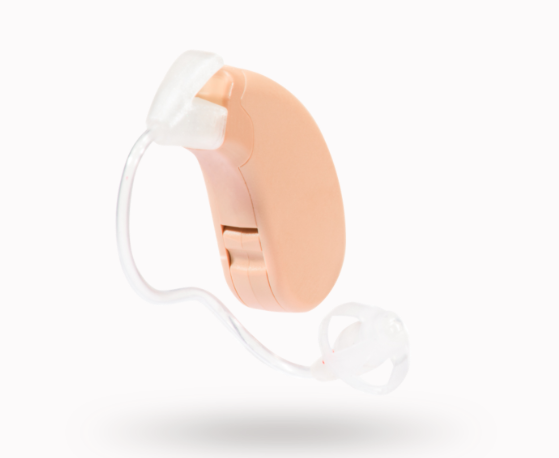 2) Lucid Enrich Pro BTE Personal Sound Amplifier*
Price: $150 each (sold as a monaural unit, so $300 for a binaural set).
Classification: Behind-the-ear (BTE) PSAP that is battery powered with no Bluetooth streaming.
Best features: The Enrich Pro BTE an inexpensive and eloquently simple device, resembling a late-1990s hearing aid with manual (button) controls, which should work well for milder hearing losses.
Description: The Lucid Enrich Pro BTE is a PSAP that looks just like a hearing aid, and it should serve as a good "starter amplification device" for a person who wants basic, no-frills amplification. Essentially, it has most things that a good late-1990s hearing aid featured: directional microphones to improve speech-in-noise reception, a manual button allowing you to switch between two programs, a rocker switch to turn the volume up/down, beep alerts that let you know which program you're using or if the Size 312 battery is running low, and a comfortable ear tip. The sound quality is not as good as modern high-end hearing aids, but it's okay. It comes with left and right acoustic tubing, so you can modify it for either ear, and three styles of domes for a comfortable fit in your ear canal. They are packaged in a 3.5 x 3 inch semi-hard carrying case. Lucid offers a wide range of audio enhancement products, including an in-the-ear (ITE) version of Enrich Pro.
My opinion: I placed this product #2 because, for a $300 binaural set, the Lucid Enrich Pro is a good low-cost amplifier that should fit the "OTC hearing aid" definition once the FDA defines this future class of products. In other words, for a minimal investment, this device should help someone with a mild hearing loss experience what amplification can do for them—which is often quite a lot! The one big downside is you can't customize the Enrich Pro's frequency response for your own individual hearing loss. If you have a mild hearing loss, that really shouldn't matter too much; however, if you have a moderate or more severe hearing loss, the device may be of limited use. The Enrich Pro doesn't have all the great bells and whistles of a modern hearing aid or advanced PSAP: it doesn't have an automatic volume control, or feedback, occlusion, or advanced noise suppression; it doesn't stream Bluetooth from your phone or music player; it doesn't offer tap controls or even an app; it isn't rechargeable, etc. However, it does provide basic amplification with fairly good sound quality. Importantly, you control this device directly via buttons on the aid instead of within an app—a significant plus for someone who doesn't wish to use an app-based product. I think this is one of the best low-cost DIY amplifier options available for someone on a tight budget and/or who, for whatever reason, is reluctant to visit a hearing care professional (and/or is also not a "techy person" overly fond of smartphones). My hope would be that it serves as a useful "gap-product" on the journey toward a professionally fit modern custom hearing aid.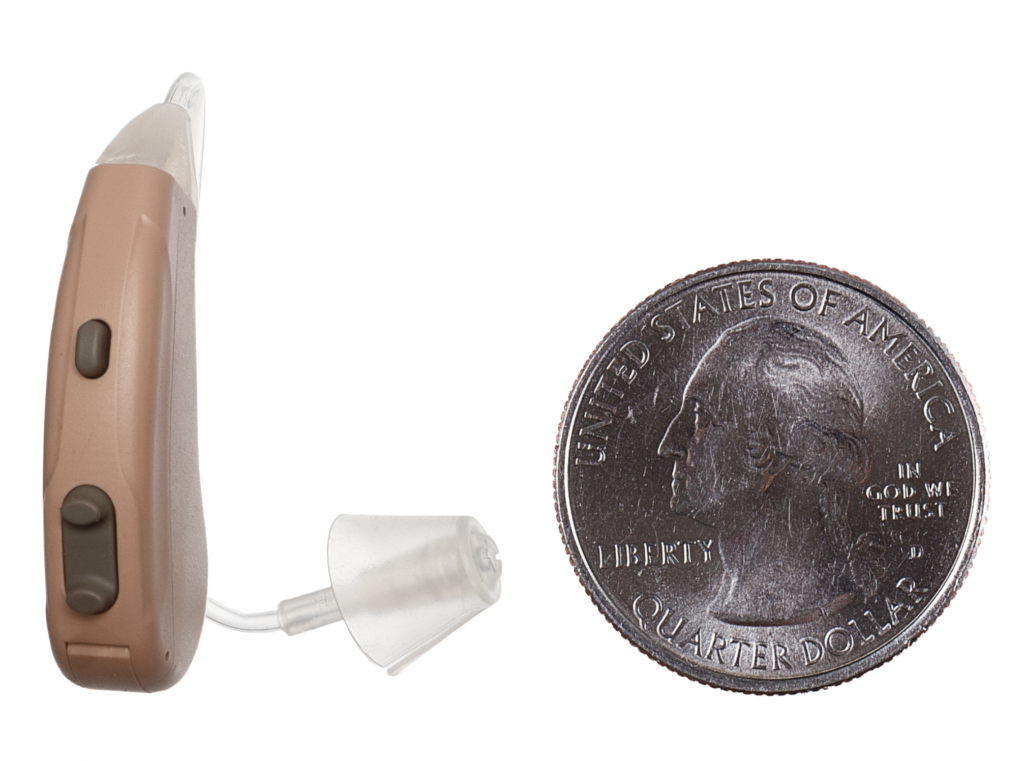 3) Lexie Lumen
Price: $799 for two (sold as a binaural set). See below for more details.
Classification: BTE battery-powered hearing aid with limited Bluetooth streaming.
Best feature: Lexie Lumen employs some of the most important features of a modern hearing aid and includes excellent online professional support.
Description: Lexie Lumen is an online hearing aid that includes the help of Lexie technicians (a service called Lexie Care) as part of the purchase price, and you can communicate with them in real-time through their app (similar to Lively or Audicus). Lexie reportedly features a hearing aid customized for your unique hearing profile, directional microphones, and a noise-reduction program for better hearing in noise. It provides good sound quality, some Bluetooth streaming (a remote microphone function but not music streaming), a telecoil for listening in places like houses of worship or theaters, and 6 pre-set listening programs/settings (everyday use, noisy indoor, outdoor, music, telecoil, and companion mic). With Lexie, you have the option of paying all at once (eg, $799) or paying a subscription fee ($49/month for 2 years). If you pay all at once, you get 2 months of Lexie Care with a renewal option, and you can purchase a Care Kit and Lexie Cover (breakage/loss insurance) separately. The subscription fee program comes with everything.  
My opinion: I have not tried the Lexie products, but have heard good things about them—particularly about their app and real-time customer service support. There are three things I like about this company: 1) It appears they really want you to succeed with their product by providing a lot of orientation and tips throughout the early days of your hearing aid use, and they have a unique rewards incentive where you can get up to 5% off the subscription price if you actually follow their program through the first 45 days (the devices come with a 45-day money-back guarantee); 2) The company is part of the hearX Group which makes a wide array of hearing-related products and was founded by a respected audiologist (and an author for Hearing Review), and 3) the actual device is manufactured by a large, publicly-owned company (Intricon) that has been making hearing aids for decades. Lexie Lumen appears to contain the features of a good "basic" modern hearing aid, plus it also features an exceptional interactive app and a customized fitting experience with a real-time telecare component that includes remote fine-tuning and troubleshooting. Geoffrey Cooling, a smart, cantankerous, UK-based audiologist who authors the HearingAidKnow blog, has praised Lexie as "the best direct to consumer hearing aid business we have come across." Lexie is also working with Walgreens in their Find Care platform, so you may soon start seeing them on drugstore shelves.
4) Wear & Hear (Alango) BeHear ACCESS*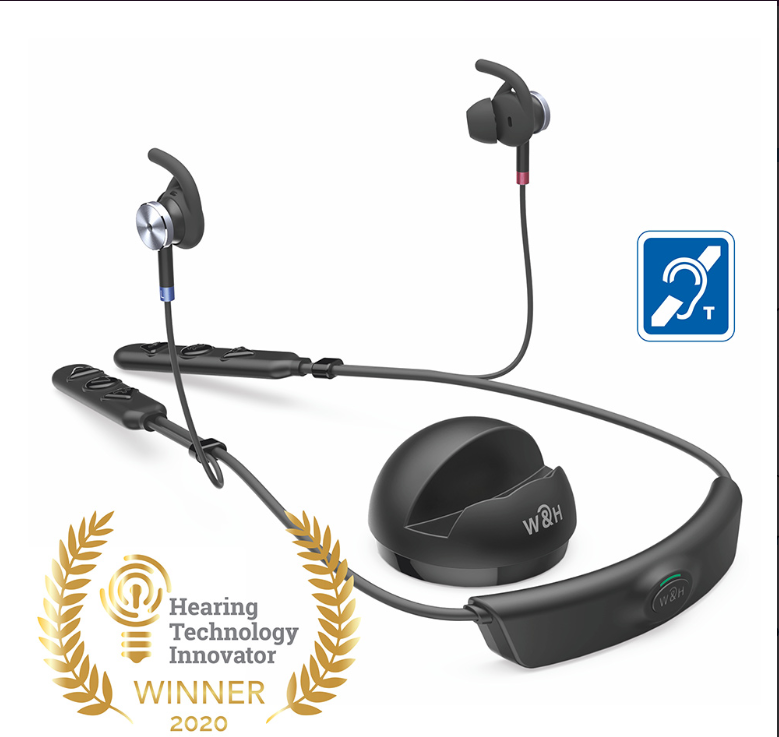 Price: $349 for unit (binaural headset).
Classification: PSAP rechargeable headset with Bluetooth streaming/control collar and telecoil.
Best feature: Great customized sound amplification and easy to use (both with or without the app) as a situational amplifier.
Description: The Alango BeHear ACCESS is a Bluetooth stereo headset with customizable assistive listening capabilities. The device consists of a "collar" that rests comfortably behind your neck and features two comfortable earpieces. ACCESS includes 6 preset listening programs for your needs (indoor, outdoor, crowd, live music, telecoil only, and telecoil transparent) and comes with a recharging cradle. The BeHear app is very good, and guides you through a hearing customization program, and then adjusts the sound for your own unique hearing needs in a dedicated program. Any number of people (eg, your spouse) can take this "hearing test" and subsequently use the device tuned for their own unique hearing profile, too. The BeHear features exceptional sound quality, Bluetooth streaming of phone calls and music (including a setting for hearing surrounding speech/noise while using streaming), a noise reduction program, echo cancellation, and more. Most of the features can be used without the app if you wish, but the app is what allows you to customize the sound and fine-tune the device for your unique hearing needs.
My opinion: This is a great PSAP! The only real drawback is the cosmetics of the collar, which has a high "nerd factor."† But it is an elegant and effective hearing solution, and features arguably the best hearing assessment/fitting program I've seen (it generated an audiogram very close to my professionally generated audiogram), tailoring the amplified sound for your unique hearing profile. It's excellent for use in the home, including TV listening, and a big plus is that the volume and programs can be changed with either the app or the controls on the headset/collar. Again, that makes it a good solution for people who aren't overly fond of smart phones. While I've never tried out the telecoil (shame on me!), telecoils are a "proven solution" for helping people who want to hear better in many venues like places of worship, lecture halls, theaters, some airports, or any other venue with an installed loop system.
As a side note, Bose once made a product, called Hearphones, very similar in appearance and function as the BeHear, and that product also did an great job at customizing the sound to your own hearing loss—although, uncharacteristically for Bose, the sound quality wasn't the greatest (and I'm a fan of Bose products). Hearphones have been discontinued, and Bose now offers its first-of-a-kind self-fitting Sound Control Hearing Aid. 
5) iHEARmax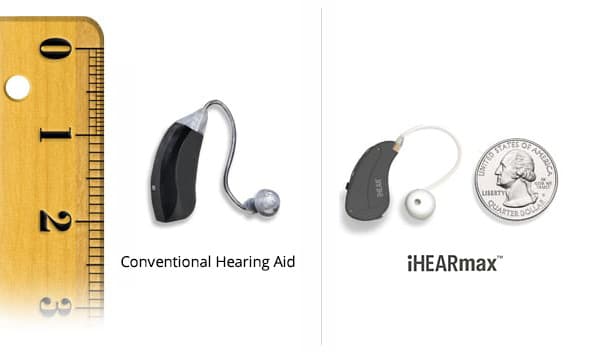 Price: $424 each
Classification: Mini behind-the-ear (BTE) hearing aid that is battery powered with no Bluetooth streaming.
Best feature: It employs some of the most important features of a modern hearing aid and offers three ways to program and customize the aid for your own unique hearing loss/situation.
Description: iHEARmax is a mini BTE hearing aid intended for adults with mild to severe hearing loss who need hearing enhancement. It is said to offer digital ambient noise suppression and feedback (whistling) cancellation. The iHEARmax gives you three programming options: 1) at-home custom programming via your computer and iHear software; 2) professional programmed at the factory; or 3) choose from the 3 pre-set programs. The first option uses streaming audio to allow the device to interactively assess your responses to simulated "real-life" sounds. You adjust the hearing device based on perceptions for loudness, speech clarity, and intelligibility for male and female voices, as well as for music, and then the software fine-tunes the hearing aid to match your hearing profile. A telecoil function can be employed with this option. The second programming option (ie, assisted by a technician at the factory) relies on the results of the iHear Test Kit, which has to be completed around the time of your purchase if you use this method. The third option is that the hearing aid arrives with pre-set programming based on "generic" hearing losses (ie, not an actual custom fitting). iHear products are designed to combine quality and programmability, and are backed by a 1-year warranty, and a 45-day satisfaction guarantee with professional support available by licensed hearing professionals. The company offers several amplification devices—some of them in prominent pharmacy chains, as well as the iHear Test Kit.
My opinion: Although I have not tried this hearing aid, I think it's a good option for someone who wants a self-fit (Option #1 above) hearing aid and/or online help (Option #2 above). If you're looking for a device that isn't "tuned" to your specific hearing loss (ie, Option #3), I think there are less expensive options available. The engineer who founded iHear also invented the Phonak Lyric hearing aid, the only 24/7 continuous-wear hearing aid on the market (an excellent and unique hearing aid which has a relatively small but very loyal user base). The iHearMAX hearing aid offers most of the features you'd find in a hearing aid made about 10 years ago, except it doesn't include directional microphones for better hearing in noise. The big advantage here is the customized sound profile for your unique hearing loss; iHearmax should work well for most people with mild to moderate hearing losses.
6) SoundWorld Solutions CS50+*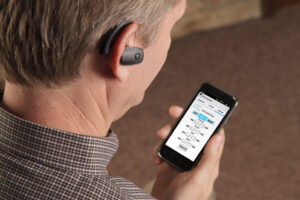 Price: $349 per unit (sold as a monaural unit; must specify left or right ear when ordering).
Classification: Behind-the-ear (BTE) rechargeable PSAP with Bluetooth streaming
Best feature: It's a Bluetooth streaming device for your phone with built-in amplification options, and looks like something a business-person might wear for on-the-go cellphone calls.
Description: The SoundWorld Solutions CS50+ is a PSAP that looks like a mobile cellphone Bluetooth earpiece—and in essence, that's what this device is, combined with some good hearing-aid-like attributes and functionality. The device is made up of two components: 1) A control unit with a button for adjusting three programs and the volume, as well as the eartip (with 3 different size options); 2) A rechargeable battery unit that fits behind your ear and magnetically attaches to the control unit (each purchase comes with 2 battery units, so you have a "spare" should the first battery run low). It uses the same strong magnetic attachment for connection to the recharger and control unit. You can use this device without an app by using the presets; however, the app supplies the user with a lot more options, and includes a 2-minute customized fitting for your own unique hearing profile. The CS50+ includes directional microphones for better understanding of speech in noise, 3 environmental program settings you can tweak in the app, and integrated Bluetooth streaming for calls or music from your phone or computer/tablet. The wire earpiece has a volume control and a separate program button, and a male voice assistant that tells you if you're turning the volume up or down and/or what listening program you've switched to. A small (about 3"x2") foam semi-soft-shell carrying case is included. Sound World now also offers a self-fit, Bluetooth, rechargeable hearing aid that is customizable using an app, the HD100 Companion ($449/monaural; $735 binaural), as well as the HD75 BTE hearing aid ($280 monaural/$500 binaural) which also uses an app for customized sound.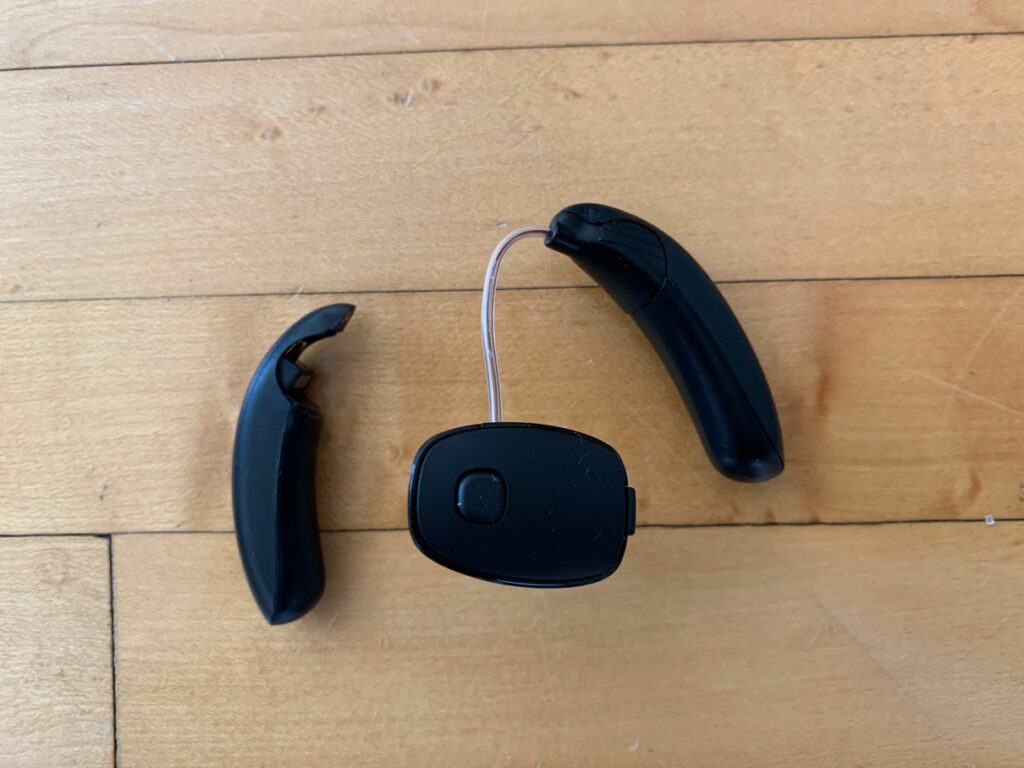 My Opinion. The SoundWorld Solutions CS50+ is particularly interesting because it has been used extensively in studies by Johns Hopkins researchers about the effectiveness of self-fitting and DIY hearing devices. In general, the outcomes of these studies have been very positive, and probably played a role in convincing the FDA to move forward with an OTC hearing aid device classification. The CS50+ features good sound quality, amplification, and streaming. The rest seems pretty basic to me—but basic isn't bad in this case. It has a higher "nerd factor"† because it looks just like one of those Bluetooth in-the-ear phone devices business-people wear while walking around the street or airport seemingly talking to themselves. But, again, that can be seen more of a plus than a negative: few people would guess the CS50+ is doubling as an amplification device. I found the Bluetooth streaming for phone calls and music a little clunky. However, this is a good monaural headset-type PSAP that offers a personalized hearing solution, good sound quality and steaming, and what I think is a good hearing solution for situational monaural amplification.
7) Eargo NEO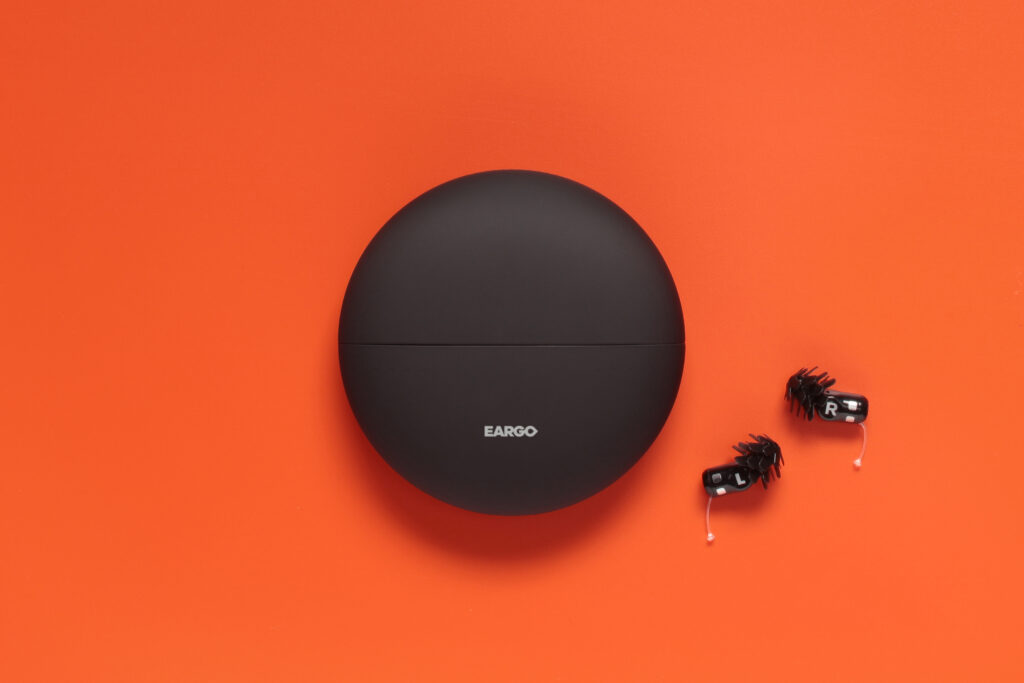 Price: $2350 for two (sold as a binaural set).
Classification: Completely-in-the-canal (CIC) hearing aid with no Bluetooth streaming.
Best feature: Very good cosmetics (mostly invisible) and comes with excellent online support.
Description: Eargo uses something of a "blended model,"†† where they blend an online amplification product with professional consultation (ie, skilled help when needed, similar to Lexie above). Immediately noticeable about Eargo products are its unique eartips which resemble flexible "palms" designed to further improve comfort and retention, and reportedly come close to replicating the feel of a custom-fit CIC from a professional fitting. The flexi palms come in two different sizes and are designed to suspend the device in the ear canal, so you get a blend of natural sound with the amplification (ie, like an open fit hearing aid) which also helps your voice seem natural (ie, less occlusion effect). The product is essentially a CIC that is inserted into your ear canal so few people will see you're wearing it. It also comes with an app, charger, 4 listening programs including one for listening in noise, and professional online/phone support directly through the app. A less expensive model is the Eargo Max ($1850), and a more expensive model is the Eargo Neo HiFi ($2950). I feel compelled to state that Eargo is a little complex for a "quick description"; for more in-depth technical information, I recommend Dr Cliff's review of the NEO from September 2019. (Dr Olson also reviews several other products listed here, and I consider him an industry friend and a reliable source on hearing care issues.)
My Opinion. Eargo is one of the most successful products and companies in the "DIY hearing aid market." Although I have not tried Eargo products (outside of hearing care conventions), reports indicate they work well, drawing positive reviews from consumers and other sources. The best thing about Eargo is its online professional support. However, my biggest knock on the product is its relatively hefty price tag for a "DIY product." It may also have limited customizability. If you have a milder hearing loss, the sound customization probably won't be a big deal; you should get plenty of benefit from linear amplification. If you have a moderate or more serious hearing loss, however, it may be of limited value. And, if price is your main sticking point, I think once you start getting into the $2000-$3000 range for online hearing aids, you should carefully consider custom-fit economy hearing aids from a local hearing care professional (although you may have to insist on a binaural set in that price range!) or big box retailer. But, again, there are many people who simply don't want to go the professional route. In those cases, Eargo NEO looks like it's a good option. (Note: Eargo has historically denigrated professionally administered hearing care in their advertising which I think is unfortunate.)
8) Apple Airpods Pro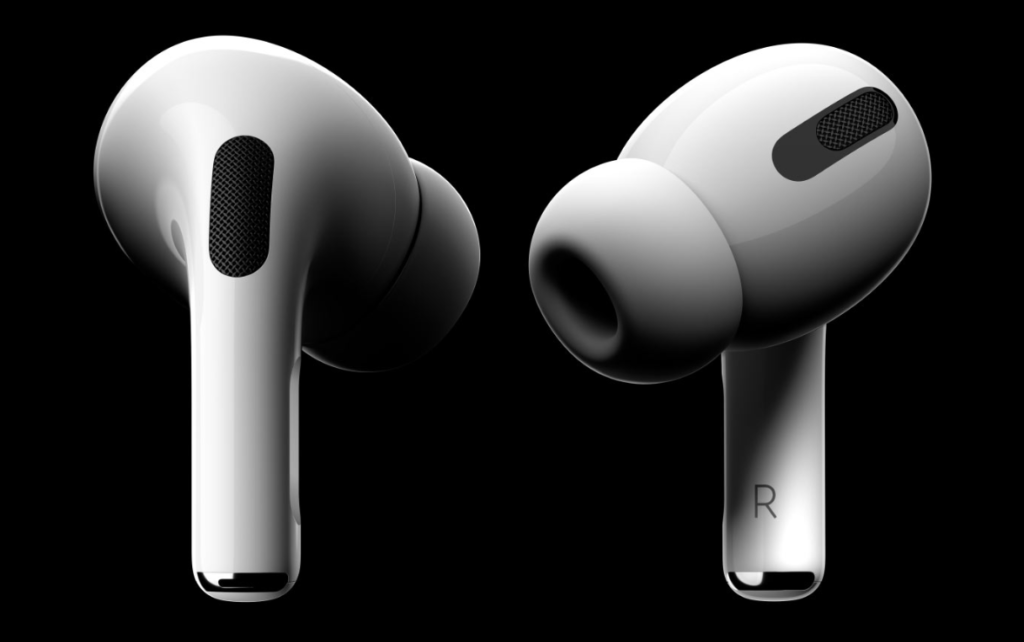 Price: $250 for set of 2 earbuds in case
Classification: iPhone earbud and app feature (PSAP) for short-term situational use.
Best feature: It's an Apple product and you may already have one!
Description: Apple Airpods Pro have a feature called Live Listen that in the Custom Transparency Mode allows you turn your iPhone (iOS 12 or later) into a microphone so you can selectively amplify sounds, helping to enhance speech in noisy places. This means you can set your iPhone in front of someone in a noisy place, and you should be able to hear them better. A new version of iOS 14 is also expected to allow you to receive sounds directly through the Airpods Pros, and includes a way to either take a hearing test and/or incorporate the results of a hearing test (audiogram) so the device can be customized for your unique hearing profile (read the article by NAL researchers about the Headphone Accommodations feature). For more detailed information, see the video by Dr Derik Edwards, AuD, and this Dr Cliff video.
My opinion: I'm a big Apple fan, but I do not use Airpods Pros because I happened to have chosen a career in publishing and am subsequently cheap. The fact that a lot of people have iPhones and should at least be aware about this capability alone warrants Apple AirPods Pro being on this list. Apple's technology is extremely impressive, but you should not confuse the AirPros for a dedicated PSAP or hearing solution—and even Apple admits as much. The big drawback is the power requirements of the Airpods Pro's streaming, allowing for only a couple hours of practical use. But if you have the Airpods Pro already, give it a try! If you decide to buy them and they don't work in this capacity, you could gift the earbuds to your favorite teenager and become an instant legend in their minds (albeit a legend who is now $250 poorer). Also, I don't think Apple is anywhere close to being done with improving on their hearing-related features, so stay tuned for future developments!
9) Etymotic Research Bean Quiet Sound Amplifier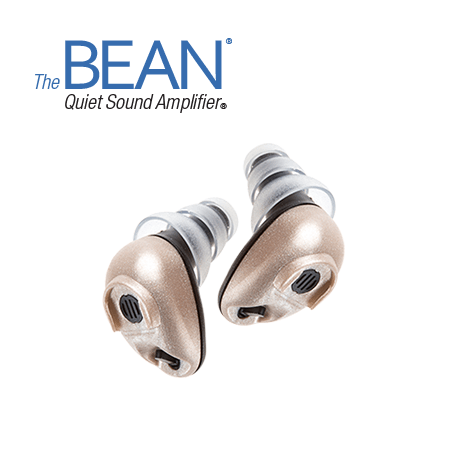 Price: $300 for 2 (sold as a binaural set) or $200 for a monaural unit.
Classification: In-the-ear (ITE) PSAP with no Bluetooth streaming.
Best feature: It's a simple low-cost discreet amplifier.
Description: The ER Bean is a basic PSAP amplifier developed by a well-known company in the hearing care field and the makers of the ER series of earphones and Musicians Earplugs. The Bean amplifies soft sounds while accentuating the high frequencies (where most people's hearing has deteriorated most). It has a button for adjusting the sound. There was a telecoil version, but it's no longer offered (which is too bad!). Acknowledgement: The Bean was originally developed by a renown hearing industry engineer and frequent author in Hearing Review who sold his company to Lucid Audio in 2018.
My opinion: I initially thought that the Bean was powered by the Etymotic Research K-Amp which was known for being an elegant analog circuit in the late-1980s that musicians often turned to when they didn't like the "digital sound" of advanced hearing aids, particularly during loud/live performances (older digital aids were mostly designed for speech enhancement and tended to "overprocess" and limit music fidelity). However, an online technician for the company told me the Bean does not use the K-Amp. Also, I'm not sure why the device is limited to only two volume settings (which they call programs), instead of a toggle switch for the volume control. But the Bean is inexpensive, and the engineers who originally developed this PSAP (as well as those at Lucid) are known in the hearing industry for paying attention to sound quality and making good products. So that's why it's included on this list.
10) MDHearing Aid AIR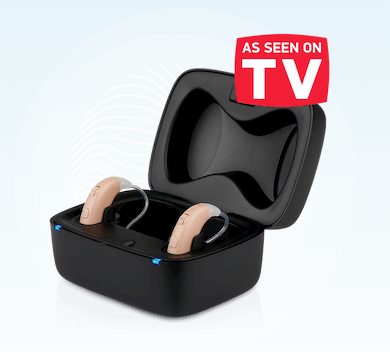 Price: $400 for 2 (sold as a binaural set, buy one get one free)
Classification: Behind-the-ear (BTE) hearing aid.
Best Feature: Popularity of the aid and manual controls.
Description: MDHearing Aid promotes its products as "medical grade" hearing aids (simply meaning it completed the FDA 510k process required to promote the product as a "hearing aid") for mild to moderately severe hearing losses with dedicated support from hearing aid specialists. It features 4 listening settings (universal, quiet, social, and noisy), a feedback canceller, and decent digital sound quality. The AIR doesn't appear to offer directional microphone technology, but does advertise what I think is steady-state noise reduction (lowering the annoyance of some noises like a refrigerator, AC unit, etc). MDHearingAid also markets its rechargeable VOLT+ ($600) with directional microphones for better hearing-in-noise capabilities and the CORE ($1000) which offers personalized sound shaping via an app. At the end of the day, the AIR is a basic low-cost, non-customized, DIY hearing aid (ie, probably future OTC hearing aid) with manual controls.
My opinion: MDHearingAid is an admittedly controversial inclusion to this list, and it's here because it is one of the most popular and prolific DIY hearing aids marketed, it has a low cost, and some acoustical data suggest it provides good amplification. However, you should be aware that audiologist/vlogger Dr Cliff (Olson) included MDHearingAid on his list of worst online hearing aids in 2019 because of their return policy, customer service, and possible performance issues. It should be pointed out, however, the company underwent a significant management change in late-2020.
And some "special-case" amplification technology…
Here are a couple other PSAPs and "starter hearing solutions" you should also be aware of: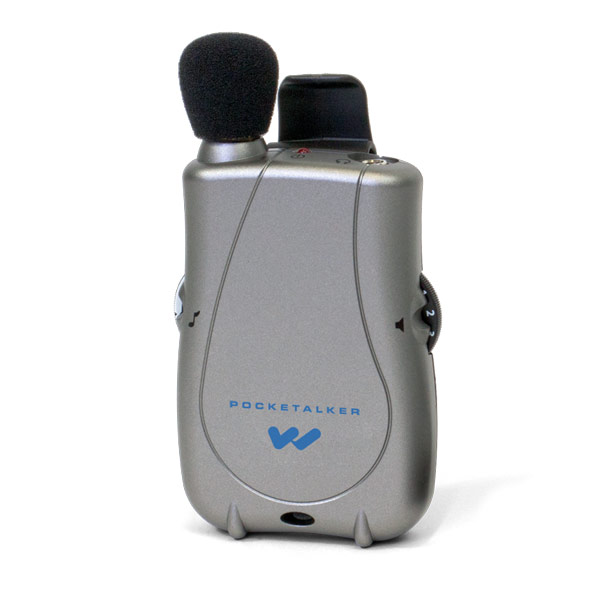 11) Pocketalker*
Price: $139
Classification: PSAP external device (earbuds/headset sold separately).
Description: No list of PSAPs would be complete without having the venerable Pocketalker on it. It is arguably THE most successful, versatile, and ubiquitous assistive listening device (ALD) ever made. For decades (in various technological forms), the Pocketalker has been a staple of hospital intake areas, emergency rooms, nursing homes, hearing care clinics, and any other place that might frequently encounter a person with hearing loss. It is widely used in hearing healthcare settings when the audiologist is initially interviewing a new patient who really can't hear well. In fact, hearing care providers frequently use the word "Pocketalker" as a substitute for any pocket-sized "assistive listening device" (eg, in the same way "Kleenex" is substituted for "facial tissue"). The major selling point for the Pocketalker is that it's very easy to use, effective, and requires only wired earphones/earbuds. The major detractor is that it's not very discreet and is probably not a device most people want to use for more than a couple hours at a time due to its use of wired headphones/earbuds (same for apps below); in other words, it's "great temporary fix" than it is a "permanent listening companion." Acknowledgement: Williams Sound, which makes and markets the device, and has advertised with Hearing Review through the years. 
12) Jacoti ListenApp, Ear Machine, and Other Free Apps*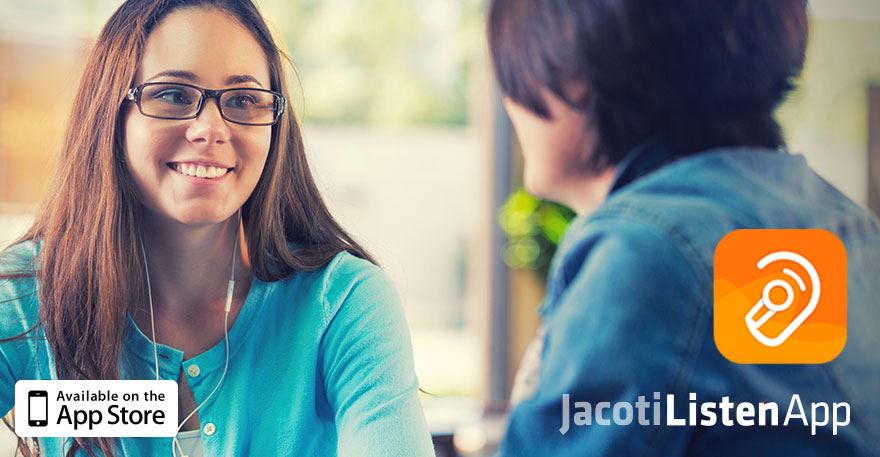 Price: FREE!
Classification: A free hearing enhancement app that you use with (preferably high quality) headphones or earbuds.
Description: There are numerous free listening apps that can serve as a "stand-in" PSAP. In most cases, you simply download the app from the Apple App or Google Play stores, take the listening test, and follow the instructions for customizing the sound, then plug in earphones (or pair to wireless earbuds via Bluetooth). It's true that they come with some drawbacks: the big one being they use your smartphone microphone as the input source. They also rely on either headphones or earbuds, and may have latency problems where the processing and signal transfer time creates an out-of-sync listening experience (like when the sound on your TV is delayed relative to a person's lips). But they're free and research studies suggest they can help. A 2014 study published in Hearing Review involving people with milder hearing losses concluded that the smartphone amplification apps in the study (Ear Machine and PocketLab's Microphone) offered some of the same performance benefits as a "bare-bones" hearing aid. Hearing Review also published a February 2020 article involving the Jacoti ListenApp that concluded it enhanced performance on various speech recognition and rating measures; however, if you want optimum results, you'll need higher-quality earphones (in the study, Sennheiser IE 60 earphones outperformed BlueEverBlue Model 1200 which in turn outperformed the standard Apple EarPods that came with the iPhone 6). The giant chip-maker Qualcomm recently announced the incorporation of Jacoti's personalized hearing assistance and safety features into its QCC5100 Ultra-Low Power Bluetooth system-on-a-chip (SoC) which is used in many wireless devices—so you may already have some wireless earbuds with Jacoti technology available as part of a product if it uses that Qualcomm chip.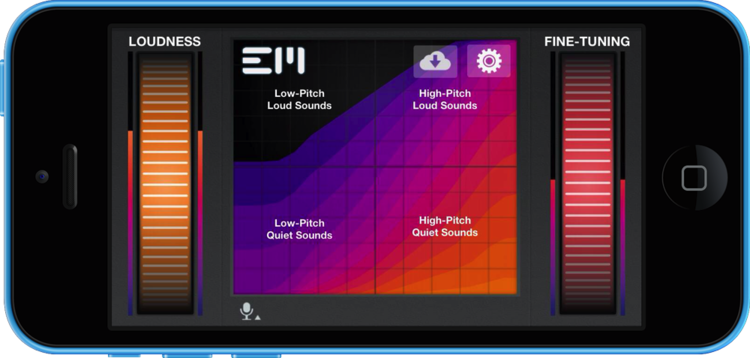 My opinion: Unfortunately, I've tried on several occasions to download and use the Jacoti ListenApp, and I'm unable to sign in. But that shouldn't dissuade you from trying (it may be a Mac thing). Two respected hearing industry folks posted a podcast in which they talk about the Jacoti-Qualcomm partnership, and its worth checking out. There are several other amplification apps available in the Apple App Store and Google Play. My favorite remains the EarMachine app, which was developed by a prominent (now-retired) audiologist-researcher who was a contributor for HR. EarMachine was purchased by Bose in 2014 for its technology.
13) EarTech TV and Audio Listening System
Price: $160 for unit (includes one binaural headset). Extra headset is $75; extra neckloop is $80.
Classification: PSAP headset with Bluetooth streaming/control collar and telecoil.
Description: Made by Tennessee-based Ear Technologies Corporation (EarTech), the EarTech TV and Audio Listening System is designed to transmit the sound from your TV directly to your ears, with volume and tone adjustments on the device itself. The system is comprised of a transmitter and a receiver (choice of a neckloop or headset), and the transmitter connects via cables to the back of your TV (works with optical connection in Smart TVs and even telecoil-enabled hearing aids).
My opinion: Is someone in your home (or building!) driving you crazy with loud TV watching and/or won't admit to a hearing loss. A personal TV listening system is a great "backdoor" way to prove to them they need hearing help via amplification technology. I'm not saying this is the best one, because I haven't tried it; however, Ear Technology Corp makes a wide variety of quality hearing-related products and is best known for their Dry and Store hearing aid accessory products, as well as the TransEar system for single-sided hearing loss. In truth, there are a number of pretty good TV listening systems (also see TV Ears) that range in price from $120-$200, but this is a good bet due to the company's reputation and ownership.
What Did I Miss?
I'm constantly on the lookout for other good amplification products and fully recognize you can't cover the entire range of options in one article. If I missed something you think should be considered or if you think I'm way off-base on any of the above, please let me know.
Notes:
† Nerd factor definition: Cosmetic appeal of the device or how visible it is when in use. I've assigned a HIGH nerd factor to devices like a collar/neck-worn product, a MEDIUM nerd factor to devices that stick out of your ears or are easily visible on/in your ear, and a LOW nerd factor to those that are situated mostly inside or discreetly over the ear. It should be noted that, in many cases, the high "nerd factor" devices are intentionally designed to look like common Bluetooth devices used by executives and other techy folks (hence "nerd factor") worldwide. Also, in terms of stigma, not being able to hear or take part in conversations is far more obvious than a device that allows you to communicate well—whatever the nerd factor!
††Blended model definition: For this article, I define the "blended model" of hearing aid distribution as any system where a consumer can purchase a hearing aid online and then obtain hearing care from a licensed hearing care professional either virtually and/or at a hearing care office. It should be noted there are at least three large prominent "blended model" hearing aid distributors that dispense hearing aids and require at least some level of professional care: Lively, Audicus, United Healthcare Hearing, and Blamey-Saunders (Australia only).
About the author: Karl Strom is editor in chief of The Hearing Review and has been reporting on hearing healthcare issues for over 25 years. He is not an audiologist and the opinions stated above are his and his alone, and do not necessarily represent the views of the company. His email is: [email protected].