Consider this…if patients were allowed to spread out the time allowed to pay for hearing aids, then a whopping 48% say they would spend over $1,250 on them—especially if there were no interest fees. This revelation appeared in a 2016 Patients' Path to Hearing Healthcare Purchase Study, reported by CareCredit of Costa Mesa, Calif.
The study forms the basis of a compelling argument for gaining access to low-interest and no-interest payment plans. By doing so, you can obtain a hearing aid by paying for it in agreed-upon installments over time.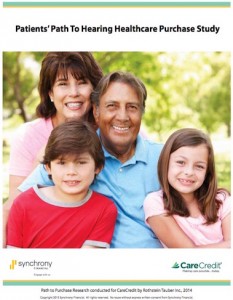 OVERCOME OBSTACLES TO PURCHASING HEARING AIDS
There are several well-known barriers to purchasing a hearing aid. In particular, recent studies point to:
Affordability – "I really don't have a significant amount of spare money," or "I want to hear better, but I just can't afford hearing aids at this time."
Sacrifice – "This means other things I need will have to wait," or "I must discuss this with my family."
Lack of Insurance – "I am uninsured, which makes this very frustrating."
A main hurdle is "affordability." About 50%-64% of older Americans who could benefit from hearing care products blame "cost" as their major blockage in the decision of whether to make the purchase.
UNDERSTANDING THE PAYMENT CHOICES
To get past such obstacles, consumers can educate themselves about financing programs available, including those from CareCredit and Ally Lending, two of the most-popular lending businesses. For example, CareCredit, a health and wellness credit card, has a variety of finance options. Its payment plans can remove the "price" obstacle from the equation so that a patient is more likely to buy a hearing aid sooner, rather than put it off due to high cost. Not surprisingly, patients are more likely to apply for CareCredit as the cost of the product rises, according to the hearing healthcare purchase study.
Plus there are many considerations, ranging from timing or what your health insurance plan might cover. Here are some factors to consider when considering payment and financing options:
"Timing is everything." The hearing healthcare purchase study showed that nearly half of the patients surveyed would seek treatment right away—if offered the right financing plan. However, about 78% were not aware of such payment choices! That means consumers are wasting time, and it's common knowledge that delaying a hearing aid purchase can make hearing rehabilitation that more difficult.
How best to pay for hearing aids?

Patients who are veterans have associated hearing healthcare benefits. Check with your local VA office or ask a hearing care professional for help. The VA provides a robust hearing rehab program, including hearing aids, for qualified veterans. For help, visit: va.gov/find-locations
If on Medicare, patients may get a portion of a payment. Medicare excludes the price of hearing aids. But (like many private insurance companies), Medicare will pay for the hearing exam—if ordered by an MD. Medicare Advantage plans offer a variety of different coverages, and you should check into these from your insurance provider.
If you have a private health insurance plan, then check whether your plan will pay. Most plans don't cover all the costs of hearing aids or hearing aid batteries, but some cover a portion of these cost. Your insurance company may also be able to refer you to a local hearing care professional who participates in their hearing care plan.
Payment plans: Learn about the financing options available through CareCredit and Ally Lending, as well as checking out other reputable patient financing options. Offering a payment plan is not just about the patient; some see it as an indicator that the provider is willing to work through the best financial option(s) for their overall well-being and satisfaction. A no-interest plan can help more patients get the timely treatment and hearing aids they need with no worries about steep up-front costs.